I was doing and writing another review for another YA book last October, but got sidetracked because I got sick (thank goodness not COVID) and still recovering from it, and work-related stuff, and read other books, and fell in love with the latest YA book I've read—Better Than the Movies by Lynn Painter. It was just the book that I needed when I fell sick, like a warm comfort, it made me laugh, swoon, and realize why romantic comedies just make everything better.
Better Than the Movies is a swoony, funny, and delightful YA debut novel (trying not to overdo adjectives again 😅😬) by Lynn Painter. Packed with teen romance, banter, and rom com references, Better Than the Movies captured the heart of your usual YA romantic comedy.
Better Than the Movies tells the story of Liz Buxbaum and Wes Bennet, next-door neighbors and enemies, or maybe frenemies since childhood. During the senior year, Liz's childhood crush (also Wes's childhood friend), Michael Young, has moved back to town and Liz is trying to win Michael. The only problem? She has to ask for Wes's help since he and Michael seem to be hitting it off ever Michael came back. Liz and Wes get to know each other better, and Liz realizes that maybe Michael isn't her Harry Burns, Joe Fox, or Patrick Verona after all.
Here is the official summary from Simon & Schuster:
In this rom-com about rom-coms, in the spirit of Kasie West and Jenn Bennett, a hopeless romantic teen attempts to secure a happily-ever-after moment with her forever crush, but finds herself reluctantly drawn to the boy next door.

Perpetual daydreamer Liz Buxbaum gave her heart to Michael a long time ago. But her cool, aloof forever crush never really saw her before he moved away. Now that he's back in town, Liz will do whatever it takes to get on his radar—and maybe snag him as a prom date—even befriend Wes Bennet.

The annoyingly attractive next-door neighbor might seem like a prime candidate for romantic comedy fantasies, but Wes has only been a pain in Liz's butt since they were kids. Pranks involving frogs and decapitated lawn gnomes do not a potential boyfriend make. Yet, somehow, Wes and Michael are hitting it off, which means Wes is Liz's in.

But as Liz and Wes scheme to get Liz noticed by Michael so she can have her magical prom moment, she's shocked to discover that she likes being around Wes. And as they continue to grow closer, she must reexamine everything she thought she knew about love—and rethink her own ideas of what Happily Ever After should look like.
Reasons why I love it and why you should read Better Than the Movies:
Love letter to romantic comedies – To all the rom-coms I've loved before –this book is an ode to rom-com films, and is very meta in a good way. I loved the epigraph of quotes and references from rom-com films including Noting Hill, Sweet Home Alabama, When Harry Met Sally, Pretty Woman, 10 Things I Hate About You, 500 Days of Summer, Scott Pilgrim vs. the World, The Wedding Date, Bridget Jones's Diary, 27 Dresses, The Sandlot (this is more a coming-of-age sports comedy), How to Lose a Guy in 10 Days, My Best Friend's Wedding, Long Shot, Love Actually, He's Just That Not into You, You've Got Mail, Pretty in Pink, Kate & Leopold, Two Weeks Notice, The Notebook (definitely not a rom-com. I am still devastated that Ryan Gosling and Rachel McAdams!), and Miss Congeniality. There's even a shoutout to To All the Boys I've Loved Before movie and the soundtrack. Even the dust jacket is a whole other level with its tribute to some of the best and classic rom-com films.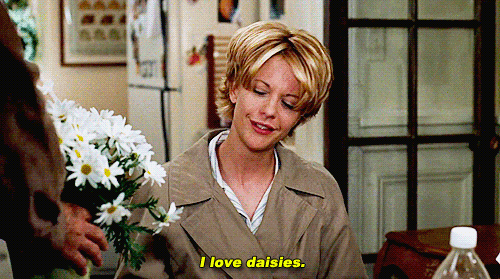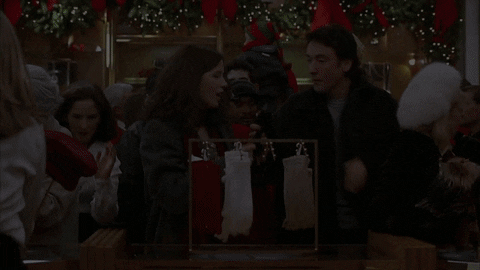 Liz and Wes's chemistry and the whole childhood enemies-turned-lovers trope – For me, the slow-burn love story of Wes and Liz was perfect and well-written with the usual YA tropes, but well-executed. It worked well because the chemistry between Wes and Liz, the push and pull, and the fantastic banter.

Scenario 1: When Wes turned into her "fairy godfather" to help Liz with her fashion style so that Michael would notice her (swoon). Scenario 2: That moment when they watched Miss Congeniality (double swoon!). Scenario 3: When they watched the stars in Wes's favorite spot (triple swoon?). Scenario 4: Liz's realization and her confession.

Wes and Liz reminded me of Pacey and Joey of Dawson's Creek.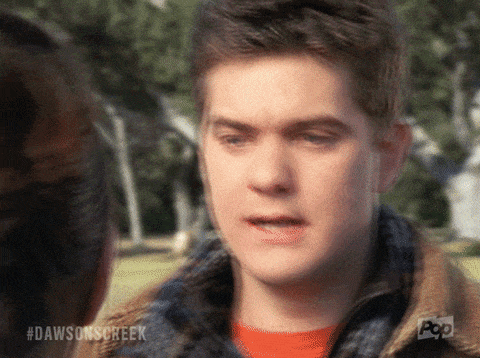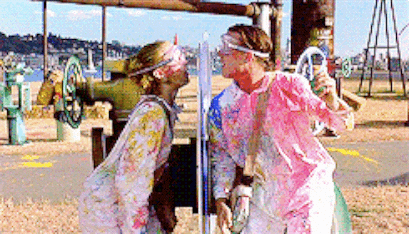 Wes Bennett – Can we add Wesley Bennett to the YA's Ultimate Book Bae/Boyfriend list? Yes, please. He is probably one of the best cinnamon roll boys, period. Despite all the teasing, the gnome decapitation phase, and Liz's drama with the whole love triangle (Come on, Liz, your Harry Burns is literally the next-door guy) 😉, I find Wes on top of YA's Ultimate Book Boyfriend list. Favorite Wes moments – too many—but here some: when he rescued Liz when a girl vomited all over her dress, make-over moment ala She's All That, when he brought Liz to the hospital, again when they watched Miss Congeniality, Wes and his memory of Liz's mom, the prom dress shopping text moment! I wish though there were more moments of him about his interests (although it was mentioned during one scene). But alas readers will be getting his POV during the preorder of Lynn's next YA book, The Do-Over, out on December 6, 2022.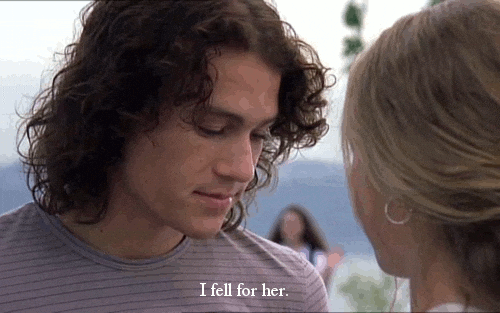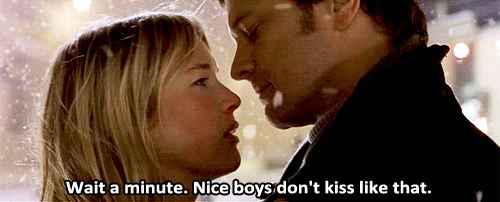 Liz Buxbaum – I loved Liz and her love for rom com films. Some might she is too idealist or too romantic, but for me who doesn't need or want a happily ever after especially during this time? And her love from rom-coms stemmed out because of her mother, and it was like keeping her mom's memory alive. She was somewhat described as weird or goofball (Duh, Michael and Dave Addleman), but I think she's quite individualistic, cool AF, quirky, and definitely a hopeless romantic. I also loved how her grief was written, it was subtle but very relatable on a personal level.
The book's playlist/Wes and Liz's soundtrack – I'm a huge fan of book playlists, soundtracks, or just music in general. And so, I was giddy when I read the music references and songs on this book much like on Erin Hahn's books, I loved all the songs and playlists mentioned in the book. A+ to Liz who creates playlist for any important event in her life. As Taylor Swift said, "People haven't always been there for me but music always has."

Check out Spotify for some BTTM playlists (found a couple of good ones), but here is the playlist of Wes and Liz which you will find at the end of the book:

Someone Like You – Van Morrison
Paper Rings – Taylor Swift
Lovers – Anna and the North
ocean eyes – Billie Eilish
Bad Liar – Selena Gomez
Public Service Announcement (Interlude) – Jay-Z
Up All Night – Mac Miller
How You Feel (Paean) – Ed Sheeran
Hello Operator – The White Stripes
Paradise – Bazzi
Sabotage – Beastie Boys
Feelin' Alright – Joe Cocker
Someone Like You – Adele
Monkey Wrench – Foo Fighters
Bella Luna – Jason Mraz
Forrest Gump – Frank Ocean
Electric (feat. Khalid) – Alina Baraz
Kiss – Tom Jones Enter
Sandman – Metallica
Death wtih Dignity – Sufjan Stevens
We Are Young – fun feat. Janelle Monae
Year's Day – Taylor Swift
River – Joni Mitchell

And here is the compiled playlist on Spotify:

And here is something that I whipped up-a movie poster. Please, Universe, please adapt this into a Netflix movie. This was inspired by the cover of the paperback version posted by Lynn on Instagram.
And here some of favorite lines from the book. I have so many favorite lines that I had to create another post.
But wait, there's more. I also compiled my favorite and most swoon-worthy lines from the book.
Better Than the Movies was an easy, 5-star read for me. If you are looking for a breezy and delightful YA rom-com and if you're a fan or slow-burn, enemies-since-childhood-to-lovers trope, I highly recommend this book to you, your friends, and our next-door neighbor.
About Lynn Painter
Lynn Painter writes romantic comedies for both teens and adults. She is the author of Better Than The Movies and Mr. Wrong Number, as well as a regular contributor to the Omaha World-Herald. She lives in Nebraska with her husband and pack of wild children, and when she isn't reading or writing, odds are good she's guzzling energy drinks and watching rom-coms.
Visit Lynn's website, Instagram, and Twitter.
Credits: