More Than Maybe is the sophomore YA novel by Erin Hahn, packed with characters that you will root for, swoon-worthy and banter-filled romance, memorable love declarations, and fantastic book playlist. As I write this, we're on the fifth month of our lockdown, or as they say "community quarantine", and for me, this is just the book that I need (seven pages in and I was laughing out loud—I blame Luke and Zack).
I was a fan of Erin's debut novel, You'd Be Mine, from last year and did not hesitate to pre-order More Than Maybe before the pandemic. I also tried requesting an eARC via NetGalley, but alas I was not lucky. 😉
Here's the book summary from Wednesday Books/McMillan:
Growing up under his punk rocker dad's spotlight, eighteen-year-old Luke Greenly knows fame and wants nothing to do with it. His real love isn't in front of a crowd, it's on the page. Hiding his gift and secretly hoarding songs in his bedroom at night, he prefers the anonymous comfort of the locally popular podcast he co-hosts with his outgoing and meddling, far-too-jealousy-inspiringly-happy-with-his-long-term-boyfriend twin brother, Cullen. But that's not Luke's only secret. He also has a major un-requited crush on music blogger, Vada Carsewell.

Vada's got a five year plan: secure a job at the Loud Lizard to learn from local legend (and her mom's boyfriend) Phil Josephs (check), take over Phil's music blog (double check), get accepted into Berkeley's prestigious music journalism program (check, check, check), manage Ann Arbor's summer concert series and secure a Rolling Stone internship. Luke Greenly is most definitely NOT on the list. So what if his self-deprecating charm and out of this world music knowledge makes her dizzy? Or his brother just released a bootleg recording of Luke singing about some mystery girl on their podcast and she really, really wishes it was her?
Here are SIX reasons why you should read More Than Maybe by Erin Hahn.
The characters and character development – Where do I even start? I fell in love with all the characters in this book. Usually, most of us or personally, I would just root for the main characters, but More Than Maybe was more than just Luke and Vada's love story and journey. You will root for Cullen (Luke's twin brother), Zack (Luke's best friend and Cullen's boyfriend), Phil (Vada's boss, owner of Loud Lizard and boyfriend of Vada's mom), Meg (Vada's best friend), Mary (Vada's mom), Ben ( hot bearded bartender at Loud Lizard), Charlie (Luke and Cullen's dad and a former punk rock icon), and Iris (Luke and Cullen's mom).

I love how Luke and Vada are in contrast with each other, but have something in common–they're both passionate about music. Vada, our heroine, is a self-assured and go-getter who has been accepted into the music journalism program at UCLA. She works at Loud Lizard, a dive bar owned by Phil, who is also the boyfriend of Vada's mom. She also writes at Phil's music review blog, Behind the Music, and plans to work at one one of the shows of Liberty Live, an annual concert series. She also has to deal with her A grade asshole, (arsehole as Luke or Cullen would have said) absentee dad, Marcus, who refuses to provide financial and emotional support. But as the story progresses, Vada learns to "let go" of her absentee dad, and all she needs is the support of her mom, Phil, of course the charming Luke, her best friend Meg, and even Cullen and Zack. 

Luke, the charming Brit who steals Vada's heart, who is somewhat shy and an introvert, as opposed to his outgoing twin brother, Cullen. Luke prefers to work behind-the-scenes, composes songs secretly and has a fantastic voice. He also co-hosts a podcast with Cullen called The Grass is Greenly. I loved his character development/emotional growth from the moment he joined the senior composition class and was paired with Vada for the senior class showcase, when he volunteered to work at Loud Lizard for one night, when he stood up to Vada's dad (swoon), when he poured his soul to Cullen on his views about love (major swoon–like two eye-closers), and that grand gesture (OMG, that would five eye-closers).

Cullen, Luke's twin brother, is the more outgoing and social one, who is also gay and in love with Zack, Luke's best friend. I love their relationship, especially the banter between the two. I know we're getting a Meg book, but I'm also curious on how Cullen and Zack met (Hi Erin, can we get a book about these two? Pretty please.)

Phil, Vada's boss and owner of Loud Lizard, also the boyfriend of Mary, Vada's mom,  is just the perfect, laid-back YA dad that everyone deserves. He is supportive of Vada's job at the bar, career path, and he tolerates Marcus to some degree, probably out of respect for Mary and Vada.
The slow-burn romance/unrequited love story – I'm all for enemies/frenemies-to-lovers and fake dating, and I'm not really a big fan or unrequited love, but I love it once done right. More Than Maybe did this excellently, with great character development and emotional growth for Luke and Vada. 

During the first few pages, you can see the obvious attraction, Luke likes Vada and vice versa. I love how their friendship developed, and how they brought out the best of each other, but probably more for Luke (grand gesture OMG). 😍😍😍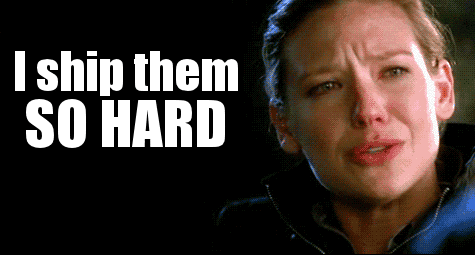 There was a point, maybe I was halfway through, that I want nothing for these two to just kiss profusely because of the tension and chemistry. I just simply love them – their character, growth, banter and passion for music.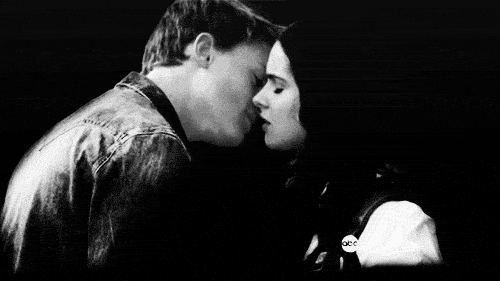 I mean….
Banter – The banter between the characters is seamless, Luke and Vada, Luke and Cullen, Luke and Zack, Phil, even the twin's mom. I was seven pages in and laughed out load because of Luke and Zack's quips. I even tweeted Erin about it.

Zack: He's your brother. You share DNA.

Luke: Yeah, but you share–

Luke: Love is catching the flu to order an overpriced, high-calorie beverage for your boyfriend.

There was also a cute and hilarious exchange of text messages between Luke and Vada about Kazi, a fellow Loud Lizard employee who ditches his shift because of his job at Whole Foods, and calls off at least once due to gluten contamination. This whole exchange is everything.

Vada: Whole Foods called Kazi, and they've got an opening in soy candles.

Luke: Gluten Digestives is looking for a tester, Kazi, and we think you're our man.

And here's my absolute favorite:
Music – Just like Erin's debut novel, You'd Be Mine, music is one of the central themes of More Than Maybe. This book is packed with a fantastic playlist from Sleeping At Last, Kodaline, Demi Lovato to Oasis and Counting Crows, this book is packed with a fantastic playlist, a love letter to music and the bands and artists that we love.

My question for Erin, is Not Warren in the book an actual band? I searched for a band called Not Warren on Spotify and there is one, although their songs are different from the book. 

This book reminds me of those mixtapes I created (in CDs) for friends. Luke and Vada's love story was also chronicled through exchanges of songs (*cue the swooning*), Luke's leaked song, and of course the grand gesture.

Erin also created a Spotify playlist for this book, however, for some reason, it was deleted on Spotify. 😦 Hoping it will be recovered. Here's an alternative playlist by a fellow reader.
Literary and pop culture references – Okay, so this book actually made me want to watch Teen Wolf. I've never seen the show, but I might add it to my to-watch list. Is it any good? There were too many funny quips with references to Harry Potter, Bonnie Wright, Paul Rudd, Pitch Perfect, and even Captain Wentworth from Persuasion. 
Erin Hahn – I love You'd Be Mine, but dare I say, I love More Than Maybe even more. In my humble opinion, you can never go wrong with Erin Hahn if you're a music lover and looking for a swoon-worth, feel-good, YA book.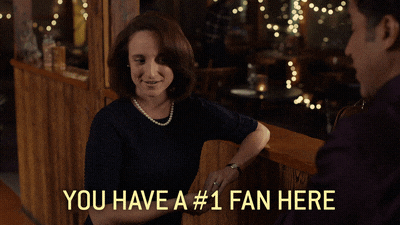 So far, More Than Maybe is one of my favorite YA books this year. I highly recommend this book, I actually convinced two bookish friends/followers to read it. This read is ⭐⭐⭐⭐⭐ for me.
Bonus Netflix "art"/splash images. I can totally see it as a movie. Please hear us out, Netflix.
Add More Than Maybe and You'd Be Mine to Goodreads. Visit Erin Hahn's website, or follow her on Twitter and Instagram.